{j2storecart}
Products
Webinar Series Recordings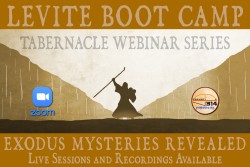 Full Recording of Project 314 Levite Boot Camp Webinar Series
The House of El Shaddai - God's Dwelling Place Reconsidered Hardcover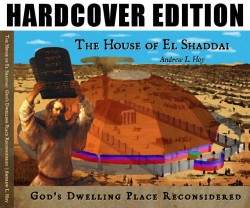 The hardcover edition of the House of El Shaddai offers the same content as the softcover edition, but is bound in a high-quality, sturdy, and vividly-colored cover. 
The House of El Shaddai - Questioning the Tabernacle Workbook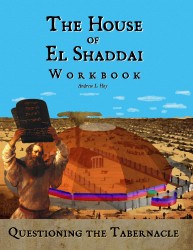 Designed as a specialized subject matter study guide, The House of El Shaddai - Questioning the Tabernacle Workbook invites students to critically examine the Exodus narrative. Created without images or illustrations that bias the imagination, the workbook contains 200 Tabernacle-related questions and drawing exercises, making it an ideal study resource for those hoping to attain an understanding of Tabernacle pattern as it is described in Bible texts.   This workbook is also created to complement The House of El Shaddai Exodus Tabernacle Presentation, making it ideal for assignments, quizzes, and group discussions.
The House of El Shaddai - God's Dwelling Place Reconsidered Softcover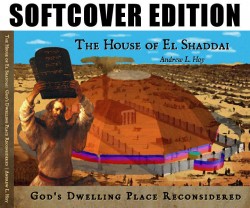 Using over 200 diagrams and computer generated illustrations, this colorful 200+ page book logically presents God's Tabernacle as described by the ancient Hebrew Exodus, texts, showing how the tent design has been misinterpreted, obscured by tradition, and lost in translation for thousands of years.   Unlike most Tabernacle publications, The House of El Shaddai is written from a Hebrew engineer's perspective, presenting each piece of the Tabernacle hardware using easy-to-understand explanations, explaining many details that scholars have been dismissed or failed to understand for generations.  Special technical or language training is not required of the audience.  
The House of El Shaddai Exodus Tabernacle CD-ROM PowerPoint Presentation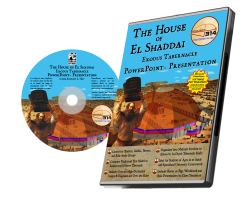 This interactive PowerPoint Presentation allows teachers and self-directed students to explore the rediscovered Exodus Tabernacle as presented in over 180 slides with more than 130 color and High-Definitions at their own pace.  The CD-ROM edition includes files that are Windows, Mac, and even smart TV compatible (Microsoft PowerPoint software and/or a personal computer are not required for viewing).

As a bonus, this package includes an electronic copy of The House of El Shaddai Questioning the Tabernacle Workbook, along with a corresponding quiz presentation, making it ideal for classroom use.  
Exodus Exegesis Engineering Drawings 36" x 240" Vinyl Scroll Format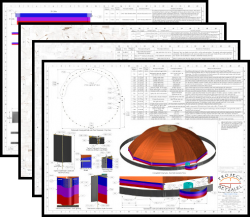 Created for dowel-and-scroll mounting, the five Exodus Engineering Exegesis drawings are joined together at the short edges (like the Tabernacle sheets themselves), creating an impressive Torah-like scroll measuring 3 feet tall and 20 feet wide.  Printed on durable vinyl, drawings printed in the scroll format are nearly indestructible!  Dowels and wood scroll accessories hardware and mounting elements are not included. 
Exodus Exegesis Engineering Drawings 18" x 24" C-Size Poster Plot Format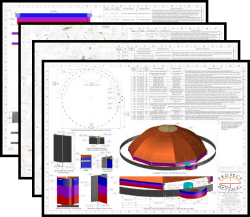 For those having difficulty seeing small details and reading small fonts, the "C-Sized" poster Exegesis drawing format (unlaminated paper) is created. 
Exodus Exegesis Engineering Drawings 36" x 48" E-Size Plot Format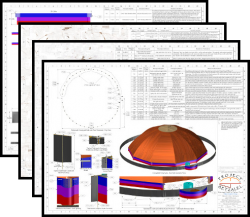 If the Betzalel Tabernacle is truly "a house in God's image", those who hope to study this "pattern in the mountain" may wish to dedicate additional wall, desk, or even floor space to such an endeavor.  These massive prints will help give users some idea of the massive scale of the original Tabernacle, making a big impression upon larger groups of people.
Exodus Exegesis Engineering Drawings 11" x 17" Laminated Format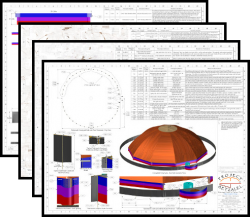 Created in order to convey the round Exodus Tabernacle exegesis in the most efficient and concise matter (without comparison to the traditional rectangular model), these drawings present the exegesis in four highly-condensed pages, with a fifth page added as an index and introduction.  Engineering-style tables cite Bible verses along with abbreviated Hebrew and English terms, cross referencing each of the exegesis notes to engineering-style illustrations.  These 11" x 17" landscape drawings are laminated, making them not only "coffee-proof", but also durable enough to withstand years if "hands on" sharing and lending during group study sessions.
Exodus Exegesis Engineering Drawings 8.5" x 11" Laminated Format
Same great content as in other larger format drawings but in more economical size.  Note that the font is EXTRA SMALL and product requires great eyesight and/or magnifying glass to read.
Exodus Tabernacle 1:75 Scale Model Kit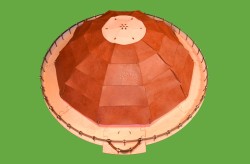 In near full compliance with Exodus texts, this one of a kind 1:75 scale model kit is comprised of over 400 parts, allowing users to build the round Exodus Tabernacle following Bible instructions on a verse-by-verse and part-by-part basis!  This kit comes complete with a full color 30 page user manual showing  users how to build the ancient model step-by-step.   
Puzzle - 8" Refrigerator Magnet
If you can't build the real Tabernacle in your house, try the next best thing... A jigsaw puzzle.  This puzzle is magnetic and is easy to "put away" when "away" is on the refrigerator in the kitchen, where it can serve as a constant reminder of El Shaddai's true Dwelling Place!  
Available in Isaiah 40:22 version (night sky) and Exodus 25:8 version (daytime field).  May take 6-8 weeks for delivery as product is in final development stages.