The House of El Shaddai Exodus Tabernacle CD-ROM PowerPoint Presentation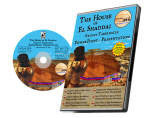 This interactive PowerPoint Presentation allows teachers and self-directed students to explore the rediscovered Exodus Tabernacle as presented in over 180 slides with more than 130 color and High-Definitions at their own pace.  The CD-ROM edition includes files that are Windows, Mac, and even smart TV compatible (Microsoft PowerPoint software and/or a personal computer are not required for viewing).

As a bonus, this package includes an electronic copy of The House of El Shaddai Questioning the Tabernacle Workbook, along with a corresponding quiz presentation, making it ideal for classroom use.